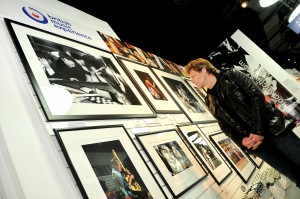 Bijna twaalf jaar geleden stond ik bij de Rolling Stones in de Kuip. To be precise on Monday 11 August 2003 Ohm 20u15, I saw Mick and Keith on stage by storm, the tones of Brown Sugar. I was for a while music photographer in smaller venues like Nighttown, Paradise, Galaxy, Rotown and The Vlerk, but this was my first 'big' concert. There I stood then, between experienced hands in the trade as Rob Verhorst and Lex van Rossen. Uneasy and excited at the same time, but also focused, because I had to come home with a good record for the Havenloods. But balend, because I was assigned to the left-hand group of photographers who were on the side of Mick Jagger, rather than at the photographers much more photogenic Keith Richards right before their lens had.
Mick had pepper in his ass and ran from pillar to post over the stage. My digital SLR, Fuji S1 Pro met liefst 3,4 megapixels (Only jpeg) and a burst rate of 1,5 fps did his best, But Mick was me often quickly. In total I shot 54 pictures between 20u17 (DSCF9878) en 20u24 (DSCF9962), most of which consists of a half or a blurry Mick Jagger as Rubber Lips once again decided to withdraw at the time I printed a sprint.
As I tried to take pictures of Mick, I loved askance Keith eye, that was good at posing for my colleagues on the other side. At the end of the first song I suddenly saw him through his pockets knees, his guitar straight into his lap. I clicked, did step aside and clicked again and saw this -no autorotate- on my display…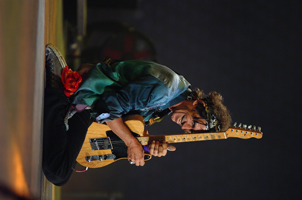 DSCF9915
23 Seconds later I made until my next figurine of a in his hands clapping Mick Jagger and 5 minutes later, all the photographers were back outside the gates of De Kuip.
The next day I made a picture of Mick Jagger on The Havenloods – because they wanted the singer and the rest remained unused on my computer.
Twee jaar later herontdekte ik de foto op mijn computer. Tegelijkertijd las ik van het bestaan van Rockarchive, een Londense galerie met een vestiging in Amsterdam, die op zoek waren naar popfoto's van Nederlandse fotografen. Ik mailde ze of ze interesse hadden in mijn foto's. Ze waren direct enthousiast over mijn foto van Keith en wilde hem graag opnemen in hun collectie.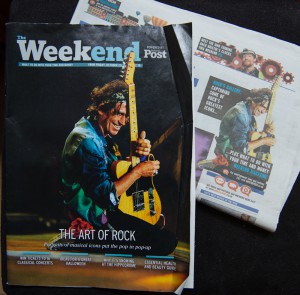 Aangezien de Stones hun beeltenis willen beschermen en de band tegen misbruik nogal streng optreedt en ik een contract had getekend waarbij ik verklaarde de foto's niet commercieel te gebruiken, was er wel een probleem. Een half jaar duurde het voordat de Stones toestemming gaven. Keith zelf heeft de foto gezien en goedgekeurd voor verkoop als kunstoplage. Sterker nog: het management heeft er uiteindelijk eentje gekocht voor de moeder van Keith. Of gekregen, daar wil ik vanaf zijn 😉 Ik heb begrepen dat ie daar ook daadwerkelijk aan de muur heeft gehangen.
Een ander probleem was dat het een jpeg-bestand was van slechts 3,4 megapixels. Met wat photoshoppen bleek het bestand in eerste instantie alleen geschikt voor maximaal A3-formaat. Met wat extra tovenarij wisten ze in Engeland het bestand geschikt te maken voor A2 en later zelfs voor A0. De foto is opgenomen in de Rockarchivecollectie in Londen die verder werk beheert van grootheden als Bob Gruen, Alfred Wertheimer, David Ellis, Gered Mankowitz, Mick Rock en Philip Townsend om er maar een paar te noemen. Samen met wijlen Lex van Rossen ben ik de enige Nederlandse fotograaf van wie werk is opgenomen in de Londense galerie.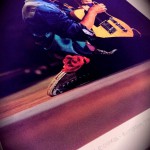 Inmiddels zijn de meeste foto's van de genummerde en gesigneerde oplage van 100 uitverkocht. www.rockarchive.com.
Sinds de eerste verkoop in 2007 is er veel meer gebeurd met de foto:
-Chelsea-eigenaar en multimiljonair Roman Abramovich heeft de foto aangekocht voor aan de muren van zijn exclusieve nachtclub annex podium onder het Chelseastadion in Londen.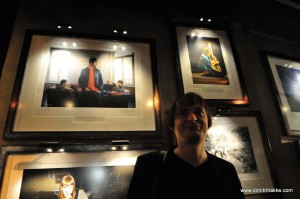 Voor de opening ben ik op uitnodiging naar Londen afgereisd.
http://www.deweekkrant.nl/pages.php?page=1659174
En op mijn eigen blog: http://foto.dimitrihakke.nl/roman-abramovich-koopt-muse-keith/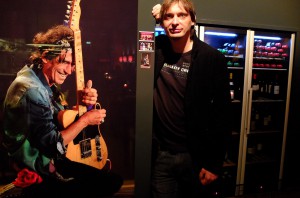 -Inmiddels heeft galerie VIPS in Rotterdam de foto ook in hun collectie opgenomen en is hij afgelopen jaar tijdens de 50 jaar stones-expo op het Westelijk verkocht aan een Rotterdams echtpaar op een formaat van 1×1,5meter.
http://foto.dimitrihakke.nl/rolling-stones-50-jaar-expo/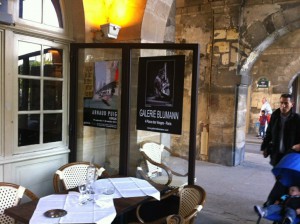 Ook de Parijse Galerie Blumann heeft interesse getoond in de foto. Een zwart-witversie wordt daar momenteel geëxposeerd en verkocht.
https://twitter.com/galerieBlumann/status/425651878228017152