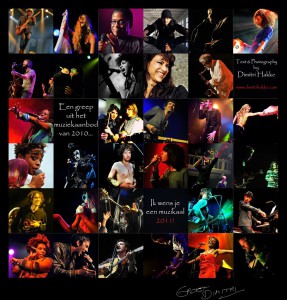 The best musical wishes for 2011!
It is over-year music 2010. Time for a brief photographic retrospective and of course the traditional New Year's card. Traditionally is free (pet)game "Call of the artists on the map '.
In 2010…
-gave my visitor counter it completely, after previous hitches last year. Therefore, no exact number of visitors and hits 2010. Why is my site since this year linked to my Flickr account: showing a photo was 15duizend views.
-were pictures that I made of my childhood hero Ace Frehley earlier (Kiss) used for a guitar lesson DVD which part of the proceeds to charity (Little Kids Rock, an organization that gets instruments in the hands of underprivileged children)goes.
-was the best news I was asked for an exhibition in Buenos Aires, Argentina along with none other than Mick Rock.
-was the biggest let the entire expo in Argentina was canceled.
-I exhibited it in Purmerend (GRID Festival) a Rotterdam (Route Du Nord)
-Two of my photographs chosen from thousands of music photographs from various photographers to serve as a backdrop for a London music hall. The result: , a list of 156 'Iconic photographs of British artists'. More information will hopefully soon.
-, the first dummy of my book 'First 3 Songs, No Flash!' Meanwhile ondere another title. Currently very busy with final selection and layout, search for printers, making texts and seeking sponsors for my book. If anyone is interested in(co)sponsoring this project, I like to hear it.
-were the most memorable concerts: Specials (Lowlands) in Suede (Paradise).
-and my most successful pictures of Shakira,Giovanca in Katzenjammer.
On to music years 2011! In any case the programa o.ä. Specials en Beady Eyes…