Music Year 2009 in Picture…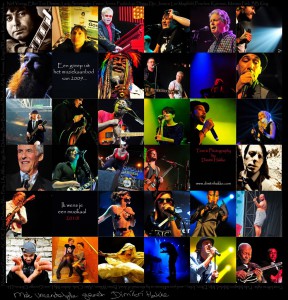 The best musical wishes for 2010!
It is almost back on 2009. Time for a brief photographic retrospective and of course the traditional New Year's card. Traditionally is free (pet)game "Call of the artists on the map '. The solution is found on the map around the photos (gray text on black border).
Finally some more facts.
In 2009:
…came about 5100 to 5300 (5500 in 2008) unique visitors along the frequently faltering counter my site between the 250.000 in 300.000 (500.000) hits yielded.
… I did participate in a large music photography expo (IMPF) in Schiedam and hung some of my pictures at the North Sea Jazz Festival in Ahoy.
…The planned book 'First 3 songs, No Flash! the occasion of my 15th anniversary as a music photographer, shows a lot of work, and unfortunately a year (to 2010)postponed.
…published my photos with Getty in newspapers / magazines, among others. and Sleep, Poland, Japan, Australia, UK, and USA including the Wall Street Journal and Billboard Magazine.
…more photos work has been featured in the documentary, Nighttown 1988-2006 Marcel Haug and Mike Redman
…the pictures of Elton John, Ken Stringfellow, Ilse Delange and Ziggi my most successful.
…I saw childhood heroes, and other variables such: AC/DC, Brian Wilson, Neil Young, Elton John, Burt Bacherach, U2 en BB King.
…were the most memorable concerts of Peaches (Galaxy), George Clinton (Watt), Brian Wilson (Paradise), Morrissey (Watt) Grace Jones (Lowlands).
…names of absurdity photo weather conditions: shooting during one song from the center spot and contracts with complete transfer of all copyright rights to the entertainer and absurd penalty clauses. Biggest culprits: Them Crooked Vultures en Morrissey.
…I did a lot of different types of jobs again, such as in Holland, the Municipality of Rotterdam and the OBR. Spangenberg and Delfshaven can I be dreaming. And the people there. Is sporadisch bewierookt, kindly smiled, but mostly abused, threatened and pelted with stones. Wat is fotografie toch een mooi vak 😉
Curious what 2010 will bring…