It was twenty years ago today…
This week I start again with what I love doing: photographing concerts. Starting with Babyshambles in Paradiso and then to Groningen for the Eurosonic Festival. It looks like a normal concert week, as there have been many, and hopefully many will follow. And yet it is a special week for me. With these concerts I officially start of a jubilee year. This year, it is indeed 20 years since I published my first concert photos. For De Toestand, a publication of the School of Journalism in Utrecht, I was with a classmate at the Dynamo Open Air metal festival.
Singing, screaming, fighting, vomiting, piss about, Laughing, dancing, gesticulating, but especially a lot of people enjoying themselves, I saw around me. And I enjoyed them, for the first time on the road to photopit, the place that would become my second home.
There I was with my brother borrowed Olympus OM10 and a camera bag containing a handful of Fuji Neopan Pro-film. It wasn't crowded, I remember. Undoubtedly veterans Lex, Rob, Niels, Michel and Paul where there as well to shoot their pictures. There were lots of things happening around me, I've forgotten a lot. I did my best to photograph a jumping Rudeboy. Sick of It All was in front of my lens, a soloing guitar legend Zakk Wylde, Keith Caputo screamed his lungs out and a man behind me was surfing over a sea of ​​heads. In the corner of my eye I saw a plane coming and pressed the shutter.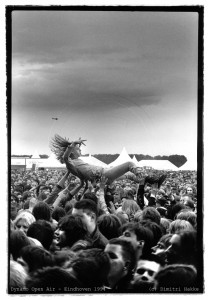 The photo was printed on the backpage of De Toestand and I got lots of compliments of the teacher and my classmates . I loved to get those, but then I had already decided that this was what I wanted to become: rock photographer.
In twenty years, a lot has happened, but the most has happend with one of my first photo subjects, Keith Caputo, who is now called Mina, and goes through life as a woman . The changes in my career have not been so drastically by far, but so far it has been a very nice ride!
1994-2014 asks for something special. An exhibition, the long-awaited book, both, something else? I'm still brainstorming. But do not worry: 2014 will not go unnoticed.
For now: See you at a next concert!