It is over-year music 2012. Time for a brief photographic retrospective and of course the traditional New Year's card. Traditionally it is also free (pet)game "Call of the artists on the map '. Sorry, no prices and the results will be entered into.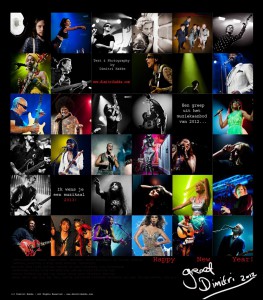 Do you recognize the artists I photographed this year? – Do you recognize the artists I photographed this year?
In 2012

…, the number of unique visitors to my new site 2.973 (2011: number unknown), which together accounted for 39.540 hits. On my Flickr account this year was 23.000 time (2011:12.000x) a picture. Surprisingly, most viewers were from the Czech Republic respectively, USA, Nederland en China.

…was my photo of Keith Richards I 9 made in the Kuip in years 3 exhibits used on the fiftieth anniversary of the Stones. In Toronto, Maastricht and Rotterdam VIPs! At the last exhibition in the Western Handelsterrein the mega size of 1 meter x 1,5 meter! If you are interested : the picture is still for sale at VIP's!.

…was social media and the Internet a bigger part of my work through a twitter account, a Facebook business page and a blog linked with ao. Pinterest and Google buttons and some initial experiments with a real App, E-book and mobile site.

…my pictures appeared in more magazines, books and documentaries than last year. From the Chicago Tribune to Russian sites and Rolling Stone Magazine from the Middle East to
Only The Good Die Young, a book about a young deceased musicians, used my images. Also magazines o.ä. Switzerland, Sweden, India, Mexico, England, Vs, Italy, Singapore, France, Portugal, UAE and of course the Netherlands chose my picture
via Getty Images

.

…werd 14x (t/m november) een van mijn foto's uitgeroepen tot Redferns Finest van de maand op de site van Getty Images.

…were the most memorable concerts: Specials (Lokerse Celebrations), New Order (Lokerse Celebrations), Rammstein (Ahoy), Anthrax (Klokgebouw), Radiohead (Ziggodome), Cribs (Paradise), Spasmodique (Rotown), The Yes Please (Walloon Church). Negative: Stone Roses (incredibly bad), Paul McCartney (Unfortunately, after two songs away) en Black Sabbath (canceled).

…I shot the most beautiful records of Daughter, Asteroids Galaxy Tour, Emilie Autumn, Jack Bruce, I am Kloot, Chrysta Bell, Andy Burrows en Soko.

…brought the pictures of Jennifer Lopez the most money in the till. In 90 copyright violations in magazines and sites (o.a. Parool, For, Volkskrant) not even counting. The rent of the lens worth.

…published my pictures on large screens in the Rotterdam metro related. the 25th anniversary of venue Rotown.

…unfortunately there were also a lot of negative things:
-mega job for known beverage brand which unfortunately did not happen
-bankruptcy 3 my clients: FRET, NL10 & a real estate client
-bankruptcy venue Exit and thus the disappearance of my photo wall
-bezuinigingen bij Uitagenda Rotterdam en daarmee verdwijnen van ruim 15-jarige freelanceverband.

…I was interviewed for the NRC and photographed on the above issues for an article on the crisis and its impact on higher education.

…I also got out of the pop music again, nice jobs both photographic, writing, as editing area. New orders and customers are of course welcome in 2013!

…up to 2013

met in elk geval een concert van Iron Maiden op het programma waar ik erg naar uitkijk 🙂