It is over, music year 2014. Time for a brief photographic retrospective and of course the traditional New Year's card. Traditionally it is also free (pet)game "Call of the artists on the map '. Sorry, no prices, but the outcome may be correspondence.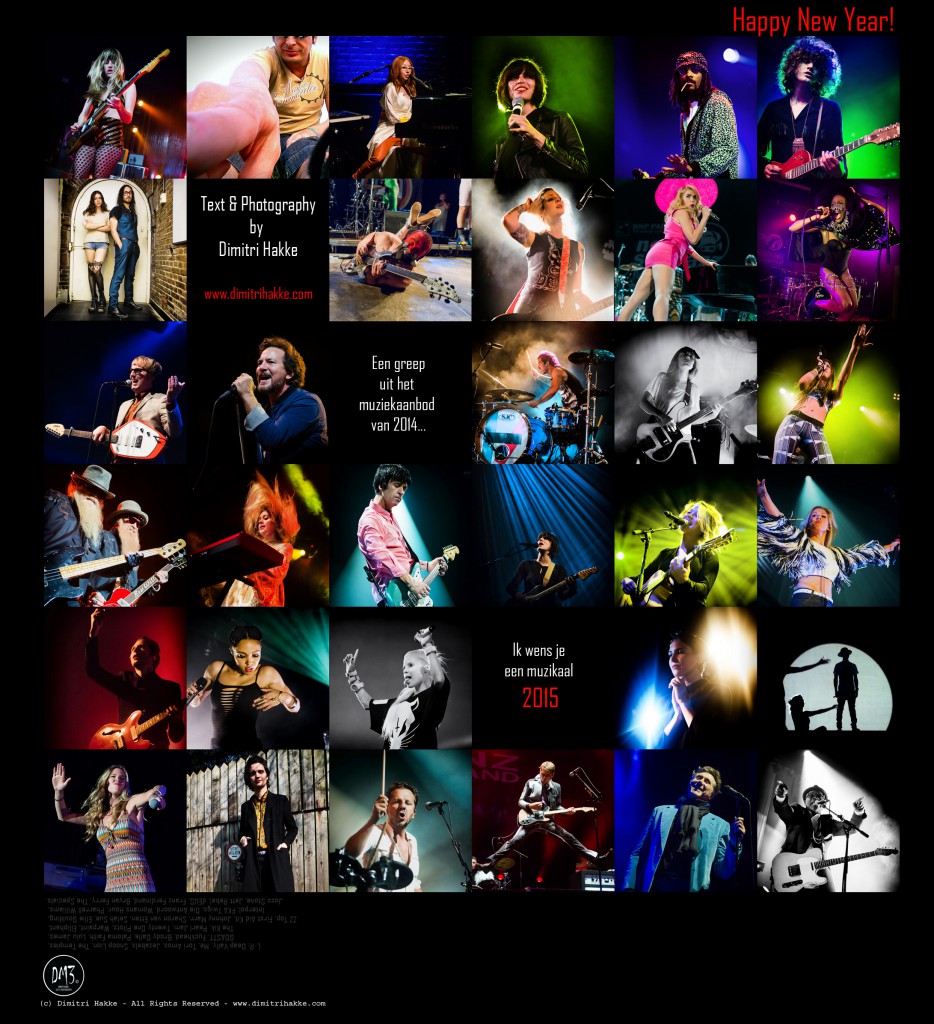 The answers are on the map. Open the image in a new window to get the card and the solution in larger image.
In 2014
…I built a brand new website www.dimitrihakke.com with not just pop photography, but also reports, portraits, architecture, mode, glamor, in foodfotografie. Furthermore, there are articles and publications can be found. The site is still under construction, and is now on trial run.
…the number of unique visitors was on my old and new site more than 23000 (2013: 5000), which together accounted for 351.000 hits (2013:65.000). On my Flickr account this year was 90.000 time (2013:63.000x) a picture. Again this year, most visitors came not from the Netherlands (4e plek), but from China and the US. Canadians, Brazilians and Germans know how to find my site more often than Belgians.
…I wrote for the Popunie a column about my work and my jubilee year. http://www.popunie.nl/2014/gastcolumn-dimitri-hakke-it-was-twenty-years-ago-today/
…my pictures appeared in more magazines, books and documentaries than last year. Especially publications in books and magazines such as Rolling Stone remains special. The latter occurred in any case 4x this year. Further, among other publications in: The Guardian, Parool, AD, Volkskrant, Billboard Magazine, Also magazines and newspapers in o.ä. Mexico, Spain, Romania, Australia, Croatia, Iceland and Russia have published my photos via Getty Images.
…Getty Images chose 16x same time one or more of my photos to the best month pictures in the field of entertainment. Three times an image has been selected for the best European pictures. The Redferns assigment editor selected one of my pictures to her favorite 13 pictures of the year for Year In Focus and 3 pictures ended up at the best 44 of 2014. Difficult to surpass, but I'm going to do my best in 2015 😉
…were the most memorable concerts: Arcade Fire (Primavera Sound Barcelona), Wedding Present (Primavera Sound Barcelona), Buzzcocks (Primavera Sound Barcelona), dEUS (Paradise), Johnny Marr (Tolhuistuin), Bryan Ferry (Ziggodome), The Ghost Of A Saber Tooth Tiger (Rotown), Temples (Gouvernestraat), Warpaint (Paradise) en The Specials (Vredenburg).
…I shot the most beautiful plates Sean Lennon & Charlotte Kemp Muhl ie GOASTT, Johnny Marr, FKA Twigs, Sharon van Etten, Woman's Hour en Brody Dalle.
…the released pictures of FKA Twigs most in money via Getty.
…I did my first job for Nu.nl
…my favorite band The Posies bought my photos to promote their European tour. A great honor!
…I also got out of the pop music again, nice jobs both photographic, writing, as editing area as the creation of a new platform with new features, apps and tips for mobile phones and tablets. I further explained congresses fixed for various clients. New orders are welcome at 2015!
…that long-awaited book is unfortunately not yet come. But in January it appears on a book I've worked with. Keep this place in mind for more info!