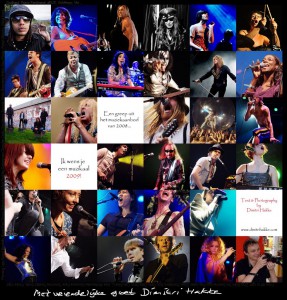 The best musical wishes for 2009!
It is over, music year 2008. Seen enough concerts again, most of which, of course, also put on the picture. The traditional New Year's card are some highlights. Traditionally is free (pet)game "Call of the artists on the map '. It will be difficult to have all of them correctly. Even I had difficulty ;-)The solution is found on the map around the photos (gray text on black border).
Finally some more facts.
In 2008:
…were almost there 5500 (5000 in 2007) unique visitors to my site 500.000 (550.000) hits yielded.
…I had an exhibition in watts under the heading 'First 3 songs, No Flash!'With mostly new work and some' classics'. The expo is a prelude to 2009 where a photo book to celebrate my 15th anniversary as a music photographer. For those who still want to go along: this weekend (3/4 January) is the last possibility.
…Rotownfotomuur underwent a facelift.
…I finally got my childhood heroes for the lens. The photos of the Stray Cats, Ace Frehley and Kiss can be found at the updates.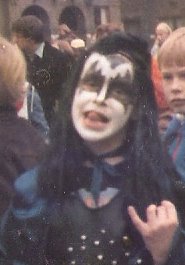 (yeah that's me in the picture haha)
…I was a member of the selection committee of the Popview / Lex van Rossen Award. An honor to be asked. Though of course I had secretly prefer to participated. But unfortunately…ondergetekende is te oud 🙁 om nog als talent te worden aangemerkt.
…the pictures of Iggy Pop and Gene Simmons my most successful.
…I did a lot of different types of jobs again. Municipal receptions to tie portraits to new editing jobs. Aside from the pop photography was a report from the rehearsals of Les Miserables is one of the best jobs in 2008.
Curious what 2008 will bring…

23u45: updated UPDATE-section met o.a Franz Ferdinand, Crossing Border, Bazaar curieux.