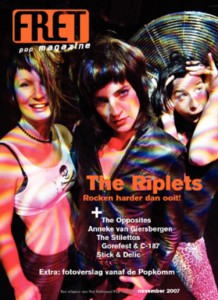 It is far! After previous covers for o.ä. R'Uit Magazine, NL10 en Live-XS, finally a front page of the FRET with one of my photos! And still with a picture of The Riplets. Rotterdam's all-girl band that I have photographed in their early beginnings. In 2000, as four still on the Very Very Punk Festival. Of course, at that time also to the FRET…
Below is a graphic image and an article from that time:
THE RIPLETS
"We are more like Green Day than Madonna"
[text a photo door Dimitri Hakke]
Not only proved the last three editions of the Rotterdam Very Very Punk Festival, that Maasstad punk city is number one, but also that the genre is primarily a man's game. Fortunately there The Riplets: three young kick-ass girls, to be built behind a lovely image.
But to directly attack the door at home. No, Valeska (drums), Allison (Guitar) en Janneke (vocals / guitar) are not the Dutch Donna's. "It is very easy to make that comparison", sighs Janneke. "The girls play Punk Rock, then you will quickly contact them. " "Girls are always compared with girls. Regardless of whether the music is the same", vult Valeska aan. "It is also sometimes difficult to explain", weet Allison, "I once said that we look like Green Day, because it is the only punkband is that they have. But yeah, we look more Green Day than Madonna."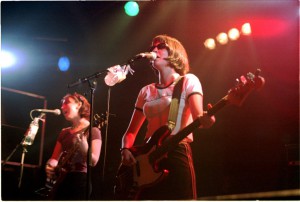 Not the Ramones, Green Day, L7, or Donna's formed in the summer of 1999 the inspiration up to the formation of a band, but local heroes like Room 101, Wiseguy and New Friend. Allen comes from Great Church and environs.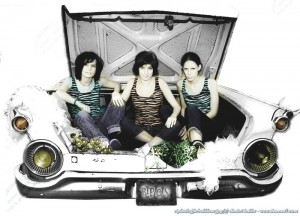 Everyone knew someone who played in a band or was busy with music. A performance of The Riplets is an experience in itself, because the necessary dress parties. The one time the trio plays (to May 2000 als kwartet) in tough leather jackets, then dozens of teddy bears on stage or run them in Hawaii Shirts. "Most visitors like it, but I sometimes hear comments like: ' you are not a carnival band!' Or they do not find it tough enough", says Janneke. "Why can not you sweet and rough at the same time?", asks Allison. "It is precisely such a nice contrast." About one thing The Riplets strongly agree: nothing is as boring as a band that plays the same songs every night during a tour, always looks the same, and a further makes the same jokes. "If we go on tour, we take our entire wardrobe with. Then, the bus is already full. Let the guitars sit down!", laughs the threesome.
As a real D.I.Y band befits, there will soon be a real singlet on the market. Five hundred copies on pink vinyl, self-released. "With songs, own cover design. We are going to fold the posters and control the presentation", Janneke on lists. And maybe you will be presenting on the evening that an American girl band Nighttown rejoice with a visit. One guess what they are called…