PARTY – EXPO – PHOTO SALE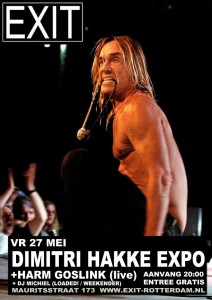 Dimitri Hakke is a musician with a camera. It makes little difference to him whether he photographs in stadiums or in small halls, though the raw intimate are preferably. By Rock Archive in London music photographer was picked up as a talent when they saw a picture of Keith Richards of the Rolling Stones that was made by Hakke. After the late Lex van Rossen, he is the 2nd Dutch photographer whose work is sold in the gallery that manages work of photographers like Mick Rock, Bob Gruen and founder Jill Furmanovsky.
Al 17 year roams the Rotterdam music photographer Dimitri Hakke halls and festivals off, for shooting pictures. His live photos and portraits of musicians appeared among others in Ear, LiveXS, Fret, Billboard Magazine, Wall Street Journal, NME en Rolling Stone.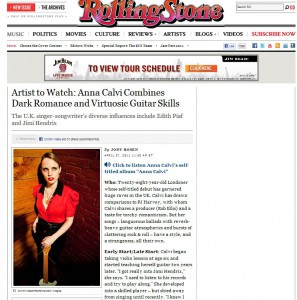 Since last March also adorn his photos on the walls of Under The Bridge, new exclusive music club Roman Abramovich in London.
Steenrijke the Rest, that we can also, they thought at Exit Dulcimer and asked to provide a selection from its rich archive the walls permanently. On the occasion of the unveiling is a party with live music from HARM Goslink COOPER and DJ MICHIEL (of Weekender) runs fine indie platelets among other things. Franz Ferdinand, Ramones, Killing Joke…
The evening is directly a godsend to tap unique popfoto on the head for a bargain price. Such 150 photos from A4 up to 50x70cm originate from previous exhibitions (eg. Library Rotterdam, Ahoy, Bijenkorf Amsterdam, Rotown and Watt.) The photos are to take right away! Sometimes with a sticker on the back, or dent or completely in perfect condition. Sometimes stuck – can be as to the wall, sometimes complete with mat or just the picture. Prices depend on artist (from 5 euro, but never more than 40 euro). Between the photos, for example a live picture of Franz Ferdinand in Rotown, LiveXS covers of White Stripes and Jon Spencer of The Strokes at Metropolis or a portrait of Ellen Ten Damme on Werfpop. Other artists, among others: Al Green, Snoop Dog, Scissor Sisters, Peaches, Riplets, Spinvis, Das Pop, Thermals, Michael Franti, Interpol, Motorhead, Iggy Pop, Turbo Negro, Kaiser Chiefs, Giovanca, Iggy Pop, Mars Volta, Ziggi, Deelder, Beck, Interpol, Madonna, Editors, TV on the Radio…
What: Expo / performance / dance ft. Dimitri Hakke, Harm Goslink, DJ Michiel (Weekender)
Where: Exit,Mauritsstraat 173, Rotterdam
When: Friday 27 MEI
Commencement: 20..00 Hours
Access: Free