Exhibition Library and CDR Rotterdam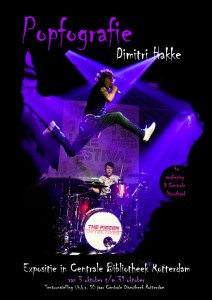 It happened again. A new exhibition. This time in the Central Library of Rotterdam and the completely renovated Central Discotheque. With new pictures such as Ming, Warpaint en Stephen Marley. Below the press release from the library:
3-10 tm 31-10 Dimitri Hakka Popfotografie
Featured in the library the pictures of this Rotterdam World photographer. Of 3 t/m 31 October. Central Library Exhibition.
Photographer Dimitri Hakke is a musician with a camera. It makes little difference to him whether he photographs in stadiums or in small halls, though the raw intimate are preferably. By Rockarchive Hakkes was picked talent after they saw his iconic image of Keith Richards. Along with the late Lex van Rossen he belongs to only two Dutch pop photographers whose work is sold in the London gallery, manages further work of great pop photographers like Mick Rock, Bob Gruen one Jill Furmanovsky.
Chelsea owner Roman Abramovich recently bought two pictures of the Rotterdam which now adorn the walls of the exclusive club music Under The Bridge in London on large format. His concert photos and portraits also appeared among others in Ear, Billboard Magazine, Wall Street Journal, NME en Rolling Stone. Library Rotterdam is proud that Dimitri Hakke his photographs exhibit in the library.
Date Monday 3 October t / m Monday 31 October 2011
City Central Library, Hoogstraat 110, 4e floor
More information http://www.dimitrihakke.nl
Exhibition i.h.k.v. 50 year Central Discotheque Rotterdam