Expo Rotown in Beeld (1987-2007)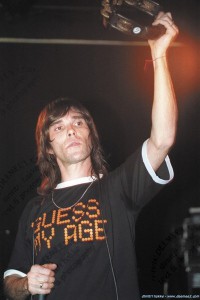 This month celebrates the venue Rotown its 20th anniversary with a special photo exhibition. Two decades Rotown means many performances. Many photos also unique shows. What about Herman Brood as a guest in the house band Rotown? Of the men of Franz Ferdinand which is now easily the Heineken Music Hall can fill. Kane with a young Dinand Woesthoff on vocals which still exerts on his monitor pose. Mexicaanse of Elvis imitator El Vez-, Queen makes the unsafe. Krullebol Ilse Delange shoe saleswoman when she was just off and on the verge of breaking with World of Hurt by. And of course, ex-Stone Roses singer Ian Brown who last birthday party Rotown came along and showed himself a special birthday shirt fitting.
Rotown Image contains a selection of the most remarkable artists, memorable performances, beautiful pictures, created by many as 9 different photographers: Hansje the Reuver, Robbie Mertens, Willem de Roon, Carla van der Marel, Peter Pakvis, Marc Nolte, Daniel Nicholas, Ruut Bol one Dimitri Hakke.
Of 27 April to 29 may have been on display in the exhibition space Rotown the photos in large format.
OPENING: Friday 27 april om 18 uur in Rotown
www.dimitrihakke.com | www.ruutbol.com | www.danielnicolas.com | www.willemderoon.nl | www.marcnolte.com
Expo Rotown in Beeld. Rotown, New Shortcuts 17-19, Rotterdam (of 27 april t/m 29 May)